Features
STRETCHES AND EXPANDS to cover and secure large gear that extends above the pickup truck bed walls. Load more, haul more, and do more with the world's most versatile and only expandable tonneau cover!
ROLLS UP and secures at the cab in seconds using buckles and straps giving you full access to load and unload big cargo or just to leave your truck bed open.
SLEEK AND DURABLE heavy‐duty STRETCH & HOLD composite textile that is roughly 7 times thicker than other soft tonneaus and highly water resistant.
PREMIUM BLACK MATT FINISH hides dust and dirt better than any other tonneau cover. Say goodbye to glossy vinyl that shows dirt the second it rains, and hello to a smooth matte black that resists fading and looks clean even when your truck isn't.
SEALS around the perimeter with our highly flexible yet robust and patented steel‐reinforced J‐hook. Unlike other tonneaus, we do not use Velcro, zippers, clips, or snaps that quickly fall apart.
FLEXIBLE allowing partial loads to protrude from the tonneau perimeter in case you want to carry a 2x4, fishing poles, kayak, or more! When it's not expanded over gear, it lays flat and smooth to cover the truck bed.
EASY‐TO‐USE design allows for quick loading and unloading of gear. Plus, you still have access to your tailgate.
PROTECTS from rain, snow, sun, dust, and more. Supports snow loads with easily removable aluminum cross supports while tonneau is lying flat.
NO TOOLS NEEDED installation is simple and takes under 6 minutes. Clamps and tools are included for mounting tonneau frame to pickup truck.
LIMITED LIFETIME WARRANTY provides coverage against defective materials or workmanship. We want you to be 100% satisfied with the Sawtooth STRETCH.
Load More.
Haul More.
Do More.

Description
Load More, Haul More, and Do More with the Sawtooth STRETCH Expandable Tonneau Cover. Get the most utility out of your short bed Toyota Tacoma with the only expandable, roll-up tonneau cover on the market. If you have ever struggled to cover large gear with bungees, straps, and tarps, you owe it to yourself to own a Sawtooth STRETCH. This innovative tonneau can roll up, lay flat, or stretches to cover tall cargo, keeping your gear out of the elements and out of sight of would-be thieves. Whether loaded or flat, the Sawtooth STRETCH expandable tonneau allows you to load, haul, and do more in style.
The Sawtooth STRETCH truck bed cover protects and secures your gear without the use of easily damaged Velcro, snaps, clips, or zippers found on other tonneau models! Sawtooth's patented reinforced steel J-hook design quickly seals the perimeter of the tonneau so you can drive with peace of mind knowing your gear is secured and protected from the elements. This adjustable pickup truck tonneau cover is made from heavy-duty composite textile that is highly water resistant and roughly 7 times thicker than competing roll-up vinyl covers. Easily removable aluminum cross supports pop in and out of the rail frame giving you full access to your truck bed for loading. When the Sawtooth STRETCH tonneau is lying flat, strong aluminum cross supports can handle snow loads.
The Sawtooth STRETCH expandable pickup truck tonneau cover may be the easiest-to-use tonneau you ever own. Not only can you cover and uncover your truck bed in seconds, but this expandable roll-up truck bed cover is also very easy to install. One person can install this tonneau in under 6 minutes with no tools, cutting, or drilling required for installation.
Other pickup truck tonneaus will void their warranty if gear makes contact with their tonneau's textiles. However, you can rest assured knowing that your Sawtooth STRETCH is meant to come in contact with your cargo and is backed by a limited lifetime warranty. Protect and secure your gear in style with the world's only expandable roll-up tonneau cover that stretches over large cargo.
Comparison Chart
| | SAWTOOTH Soft Roll Up Cover | Soft Roll Up Cover | Folding Cover | Hard Tilt | Hard Rolling / Retractable |
| --- | --- | --- | --- | --- | --- |
| Stretch and Expand | | | | | |
| Cargo Can Touch Tonneau | | | | | |
| Secures & Protects Tall Loads | | | | | |
| Increased Utility & Versatility | | | | | |
| Modular Components | | | | | |
| Complete Access To Bed | | | | | |
| Easy Installation | | | | | |
| Warranty | Limited Lifetime | 30 Days - 5 Years | 30 Days - 5 Years | 1 - 3 Years | 1 - 3 Years |
| Tension Control | Auto | None To Auto | None To Auto | NA | NA |
| Drill Free Installation | | | | | |
| Material | Custom Textile | Vinyl | Vinyl & Aluminum | Fiberglass & Plastic | Steel & Aluminum |
| Price | $ | $$ | $$$ | $$$$ | $$$$$ |
| Custom Applications | | | | | |
| Cover Height Above Truck Rail | 1/2" | 3/4" To 1 1/2 " | 3/4" To 1 1/2 " | 3/4" To 1 1/2 " | 11/2 " |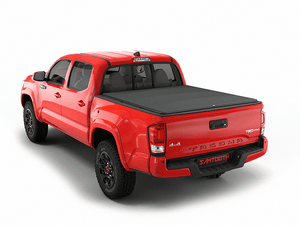 FAQ's
Q: Where is the Sawtooth STRETCH made?

A: Sawtooth Stretch Expandable Tonneau Covers are made in the USA!
Q: How secure is the Sawtooth STRETCH?

A: Like every other soft tonneau cover on the market, security can be limited.  However, because the Sawtooth STRETCH covers both small and large gear, you have added peace of mind knowing your gear is out of sight of potential thieves.
Q: Is the Sawtooth STRETCH waterproof?

A: No tonneau cover is completely waterproof.  The Sawtooth STRETCH is water resistant and does a great job preventing water from entering the pickup truck bed, but some water may still enter your truck bed along the side of the tailgate.
Q: Can I put cargo on top of the Sawtooth STRETCH?

A: We do not recommend placing cargo on top of the Sawtooth STRETCH expandable tonneau cover.  The aluminum cross support members are not recommended to support cargo loads.
Q: Can I lock the Sawtooth STRETCH?

A: Placing a locking mechanism on the Sawtooth STRETCH expandable tonneau cover would severely limit its versatility, ease-of-use, and quick installation.  It was intentionally omitted. 
Q: Are Sawtooth Tonneaus warrantied?
A: Yes! We take great pride in our tonneaus and offer a warranty to our amazing customers. Please see our warranty information for more details.
Q: When will my tonneau Ship?
A: Your ordered Sawtooth Tonneau will typically ship within 5 working days after placing your order.  This does not include holidays and weekends.
Fitment & Notes
1) Fits the following truck year, make, model and bed size:
2) Trucks with bed liners:

   - The Sawtooth STRETCH Expandable Tonneau Cover fits all sprayed‐on and under‐the‐rail bed liners. It will not fit over‐the‐rail bed liners without cutting notches into the liner first.

3) Trucks with bed caps and rails:

   - The Sawtooth STRETCH Expandable Tonneau Cover fits all factory and most non‐factory under‐the‐rail bed liners and bed caps; however, it cannot be used with bed rails.

4) Fits bed inside width and lengths at the inside top of the bed rail:

   - Bed width at Cab: 57"
   - Bed Width at Tailgate: 56"
   - Bed Length: 59 1/2"

5) If the above bed dimensions are not your bed sizes please consider the following:
6) Attention State of California Consumer Warning:
7) Warranty Registration & Information:
MANUFACTURER'S INFORMATION:
The Sawtooth STRETCH Expandable Tonneau Cover is proudly made in the USA!  Unlike our competition, we believe you should not be limited in what cargo you can protect.  Sawtooth is an industry leader when it comes to creating innovative cargo management equipment that allows users to Load More, Haul More, and Do More.  We are passionate about utility and every day we strive to provide you with the most versatile cargo management equipment.
The Sawtooth STRETCH roll‐up tonneau cover is a new category of tonneau.  It is the world's only tonneau that expands to secure and protect large cargo that sits above the pickup truck bed rails.  The Sawtooth STRETCH was specifically designed to be easy to use.  It installs in minutes and loads and unloads in seconds.  This pickup truck cover also gives you more utility and makes your truck more versatile.
Sawtooth's aim is to improve consumer, commercial, and military logistics through unique design and increased functionality.  We manufacture innovative cargo management products that allow users to quickly load, secure, and protect cargo for transit.  Sawtooth has a contrarian view when it comes to cargo management.  Whether you're headed to a soccer game or into combat, we provide innovative cargo management solutions across multiple modes of transportation.
What Customers Are Saying
Cory S.

I love your product!!!!!

We needed a truck bed cover that would allow us to protect our bigger gear. This thing has exceeded our expectations. Thank you.
Al T.

OMG!

Omg, I just
purchased this for my Jeep gladiator, covers my oversized fridge and protects my gear. I love it. Easiest cover I ever installed.. It works great with my rack for my rooftop tent.
Matt G.

Looks Great

The cover looks great.. can't even tell I have a toolbox underneath it.
Clint B.

I Bought Two

I liked my Sawtooth STRETCH tonneau so much that I decided to buy one for my dad's birthday.
David C.

I Really Like This Cover

We needed a cover that did more than just cover. I have really enjoyed having this versatile tonneau. Thank you
Michael D.

Nice Tonneau

I was hesitant to order a new type of tonneau that wasn't common in the market. However, I am glad I did. This thing is tough and it has saved my "bacon" so many times. Thank you!
Remi C.

Great Cover for People Who Camp

I have needed a cover like this for ages. I was so pleased to find it. This cover is the best accessory I own on my truck!
Made In The USA
All Sawtooth products are proudly made in the USA

Limited Lifetime Warranty
LIMITED LIFETIME WARRANTY provides coverageagainst defective materials or workmanship. We wantyou to be 100% satisfied with the Sawtooth STRETCH